Make a statement with these free monogram fonts for projects, logos, blogs, graphic design and more!
Use this assortment of cursive script calligraphy, clean lettering, or monogram fonts with fancy flair with or without frames
Perfect to personalize tumblers, linens, pillows, stationery, couples wedding gifts & more
And if you're interested in more lettering options, check out our complete list of free fonts, commercial use included
HOW TO FIND DOWNLOAD LINK FOR FREE FONTS:
Scroll to the next shaded pink box: the "How to Download Fonts" section. There, you will find a list linking to our favorite fonts. Simply click those hyperlinks to be taken to the download page of the respective font.
Disclosure: If you buy something through any of our affiliate links on this page, we may earn a commission at no extra cost to you. Thanks for supporting our site and keeping our designs free for all.
Jump to:
Stop spending hours looking for the perfect monogram font because we've got a list of all the best monogram fonts for women, men, boys and girls!
What is a Monogram?
A monogram is a personal indication of one's name:
Single monogram: Usually represents surname
Dual monogram: Use for those without a middle name or the first names of a couple
Triple monogram: This is the commonly used format, which can be used for an individual or the first names and combined last name of a married couple
Order of Letters in a Monogram
There is an order to how letters are arranged in a monogram. Here are some general tips to follow:
Individual (middle letter largest): First initial, Last initial, Middle initial
Individual (all letters same height): First initial, Middle initial, Last initial
Individual (stacked, such as in a block monogram): First initial on top of Middle initial to the left, Last initial height of first two initials combined to the right
Couple: Woman's first initial, Shared last name, Man's first initial
Ways to Dress Up a Monogram
Elevate your monograms with these creative elements:
Cool, stylish fonts (like the ones we've rounded up below)
Decorative shapes: Circle, Heart, Diamond, Candlepin and other fun shapes
Borders and frames: Use scalloped frames, vines and wreaths, ring of shapes or a collection of all kinds of fun frames to include your monogram
Factors in Font Selection
We've searched high and low for a diverse array of fonts to fit your project needs. Our goal was to find the best collection of fonts that include as many of these characteristics listed below as possible.
Most popular trends to classic timeless styles (elegant modern, fancy vintage, rustic farmhouse, clean and simple minimalist, etc).
Downloadable alphabet and/or dingbat (picture) ttf or otf files that work well on desktop, laptop computers (Android and iPad tablets are a bit more tricky).
Cool, cute, stylish font family typeface samples from trustworthy sites such as Font Bundles*, Creative Fabrica*, Dafont, Fontspace, and other reputable font websites.
A collection that includes thick, bold fonts; thin, modern handwritten script; cursive calligraphy; masculine and feminine fonts, texture like distressed or grunge or with extra tails, glyphs, and swashes; serif, sans serif, and more.
Beautiful, Pinterest-worthy typography for cool font pairings or combinations that go well together (aka great graphic designer quality), which can be used for weddings, baby showers, professional events, logos and more.
Useable for text in Word or to create beautiful print for craft cutting machines like a Cricut machine*, Silhouette machine*, Brother Scan N Cut*, etc.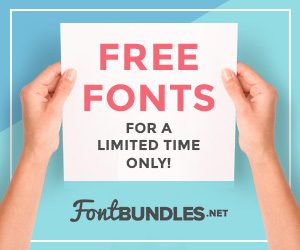 Personal vs Commercial Use
Personal use means you are using a designer's work for your own projects with no business interest. This applies to most crafters, who want to use pretty fonts, clipart, etc to customize a vinyl project, create a wood sign, or other DIY project.
However, if you plan to use the designs for your business, whether to sell or even give away for free, then you will need a commercial license in order to use the font legally.
Most times, free fonts are only for personal use with the option to upgrade for business use. But sometimes, designers are really generous and let you use their free fonts for both personal and commercial purposes.
Check the fonts section below for licensing information we found.
Monogram Fonts for Free
At the time this post was published, all the following fonts were free for personal use, with a number also available for commercial use (as noted next to the names of applicable fonts below). However, please check the download site page for the most current license information.
Save this post to remember these font names!
HOW TO DOWNLOAD THE FREE FONTS:
Following is a list of the featured fonts. To download any of these fonts, simply click on the link of the font name to be taken to the download page. Enjoy!
Monogram shapes and decorative frames:
Create fun borders for round or pointed monogrammed initials.
Clean serif and sans serif fonts:
Ideal for logos, branding, and male monograms; can use to make block monograms
Monogram cursive script letters:
Looks great with center initial larger than side initials; can have letters not touching, slightly touching, or interlocking
Other unique monogram fonts:
Most Popular Premium Fonts
Looking for more awesome font collections that are sure to get you compliments? Grab the best quality fonts for crafters, favored among crafting businesses.
Snag these limited-time font bundle deals while they last!
Conclusion
Grab these fun, easy monogram fonts while they're free and check out the bundle deals for more font goodies!
More Craft Resources
Tips for Using Fonts in Crafting
Downloading and installing fonts
The free download files will come in a zipped folder. Extract the files and download to your computer. Make sure you close out and reopen Cricut Design Space or Silhouette Studio for the new font(s) to appear.
Combining script text
When you insert text into Cricut Design Space, you will need to adjust letter spacing to connect letters. Don't forget to weld to combine the text so each word cuts out as a single piece instead of by individual letters.
If welding text fills in the space in letters (such as a, d, p, etc), then undo the weld, enlarge the text, and try welding again.
Thin fonts
Some cursive fonts may become too thin for weeding if used as small text. Reserve for use on large signs, etc.
Happy crafting!